Your personal involvement is needed for your family,
for your community,for Israel, and for the Jewish people.
What will happen when you
can no longer be there?
At StandWithUs, our mission is education. We understand the urgency of vigorously promoting proper information about Israel and the Jewish people, as history has taught us.

A planned gift to StandWithUs Jerusalem Legacy enables you to be part of the solution by helping ensure the continuation of the vital work we do at StandWithUs for today's generation and for the generations to come.
Today You Stand Up For Israel and the Jewish People
because you are here. When you are no longer here,
you can continue to stand up for Israel with your
StandWithUs Jerusalem Legacy Gift.
Your Gift can be fulfilled in many ways that help you meet a variety of personal, financial, and philanthropic objectives:
1.Include A Charitable Bequest Provision By Will Or Living Trust In Your Estate Plan:
By deciding to leave a bequest in your will or trust of a specific amount of cash or a specific percentage of your assets, you can create a permanent legacy. There is no limit on the amount you may set aside from your estate: you can make a gift as large or small as you prefer. You may choose to make a gift of cash, securities, or other property. The size of your taxable estate will be reduced by the value of your gift.
2.Make A Designation In Your Life Insurance Policy:
Life insurance is an excellent tool for making charitable gifts for a number of reasons. You can designate StandWithUs Jerusalem Legacy as the beneficiary of a new or existing policy, thereby providing an "amplified" gift that enables you to create a legacy on an installment plan. Through a relatively small annual cost (the premium), a far greater benefit than otherwise possible can be provided for charity. This sizeable gift can be made without impairing or diluting the control of a family business or other investments. All other assets earmarked for family members can be kept intact. If you irrevocably designate StandWithUs as the beneficiary or owner, the amount of premium you pay each year is an income tax deduction.
3.Create A Charitable Remainder Trust:
A charitable remainder trust ("CRT") is an irrevocable trust that generates a potential income stream for the donor, with the remainder of the donated assets eventually going to one or more charitable organizations. A CRT is a gift that gives back. This flexible estate and financial planning tool allows you to give property of substantial value or other assets to StandWithUs and in return receive benefits, including income for life, a reduced estate, reduced capital gains, and lower income taxes. You can set up a CRT in your Will or Trust to allow an individual to benefit for life with the remainder passing to StandWithUs, thus benefitting the individual for life but also assuring an estate tax deduction for part of the value of the assets in the trust.
4.Create A Charitable Lead Trust:
A charitable lead trust ("CLT") is an irrevocable trust that generates a potential income stream for one or more charities of the donor's choice, with the remaining assets eventually going to family members or other beneficiaries. A CLT allows you to benefit from the tax savings that result from supporting StandWithUs and to then transfer assets to your heirs. You give assets to a trust that pays the StandWithUs Jerusalem Legacy an income for a number of years or life. When the term is up, the remaining trust assets go to your family or other beneficiaries you select.
5.Make A Designation In Your Individual Retirement Account (IRA) Or Pension Or Profit Sharing Plan:
If you are over the age of 70 ½, your retirement assets can now provide and benefit StandWithUs and its educational programs in a tax-advantaged way. The IRA Charitable Rollover now allows charitable donations to be made directly from your IRAs to StandWithUs for up to $100,000. If you and your spouse are both 70 ½, you may each be eligible to make such a gift. This type of donation can also be used to satisfy your annual Required Minimum Distribution amount.
6.Arrange For A Payable On Death Account Or Transfer On Death Account:
A Payable On Death account ("POD") is a special type of bank account that is recognized under U.S. and state law. POD accounts can be set up for checking accounts, savings accounts, money markets, and certificates of deposit as well as U.S. savings bonds. A POD allows for the money remaining in the account, when the account owner dies, to pass directly to the StandWithUs Jerusalem Legacy. This will happen outside of probate. It is important to understand that the assets in the bank account will pass to the POD beneficiaries even if the account owner had a last will and testament or revocable living trust.

Transfer On Death:
A nonretirement account designating a beneficiary or beneficiaries establishes a Transfer on Death "TOD" registration for the account. There are only two types of accounts that may use the TOD service, an individual account, and a joint tenant with right of survivorship. A TOD registration generally allows ownership of the account to be transferred to the designated beneficiary, the StandWithUs Jerusalem Legacy, upon your death. Your account manager or financial advisor can add a POD or TOD designation to your existing accounts to include StandWithUs as a beneficiary.
7.Make An Outright Gift By Donating Cash, Securities, Real Estate Or Personal Property:
A current gift of cash or other property to the StandWithUs Jerusalem Legacy can establish a permanent endowment during your lifetime that will make distributions to StandWithUs and allow StandWithUs to continue its important work to educate middle school, high school, and college students and communities about Israel. The fair market value of a gift is tax deductible to the fullest extent allowed by law. Additionally, capital gains in appreciated securities are waived.
Sign A Letter Of Intent And Make A Bequest In Your Will To The StandWithUs Jerusalem Legacy
We would like to encourage you to include StandWithUs in your legacy giving. By making a bequest to StandWithUs Jerusalem Legacy, you and your family will help ensure that future generations will remain knowledgeable and supportive of Israel. By signing a letter of intent, you will be sending a powerful message to the next generation that your commitment to Israel's future is unbreakable. Your thoughtful action today will help protect Israel tomorrow.
Suggested Language For Your Letter Of Intent
is letter indicates my intent to join the StandWithUs Jerusalem Legacy by including it in my planned giving.

Name(s):___________________
Phone:___________________
Email:___________________
Address:___________________
Signiture and Date:___________________

Suggested Language For Your Will
I/We give and bequeath to StandWithUs Jerusalem Legacy/the Israel Emergency Alliance, a nonpro t organization (Federal Tax I.D. #01-0566033) having o ces at 6505 Wilshire Blvd., Fifth Floor, Los Angeles, CA 90048, the sum of ____________dollars ($ _______.00) or ________% of my residuary estate for the purpose of furthering the educational and charitable purposes for which StandWithUs was formed and for which it is operated. I/We request that StandWithUs use all the funds it receives for its general purposes or for the ______________designated program.
Please consult your estate planner and/or your tax advisor to maximize your legacy.

Please contact StandWithUs with the details of your bequest
once you have made it in your will or trust.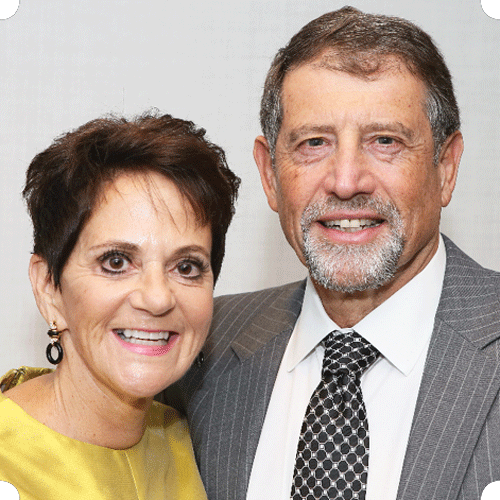 Debbie and Naty Saidoff
"We support StandWithUs because it is one of our family's most trusted and effective international partners for Israel: educating, inspiring and mobilizing the leaders of tomorrow!"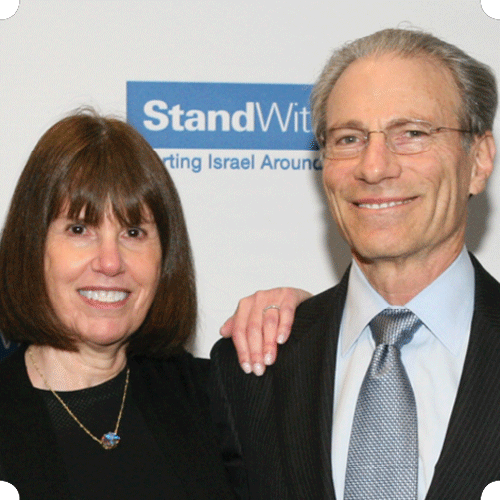 Rita and Steve Emerson
"We want to continue to fund the StandWithUs Emerson Fellowship, our major legacy program, in perpetuity, a joint effort that continues to give us great pleasure and the knowledge that we are continuing to make a difference well into the future."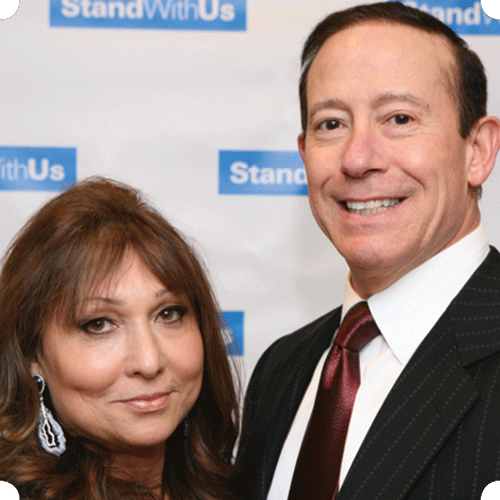 Gila and Adam Milstein
"We care about the future! StandWithUs is an outstanding, international leader in Israel education. That is why we are funding the Israel In Focus Student Conference annually."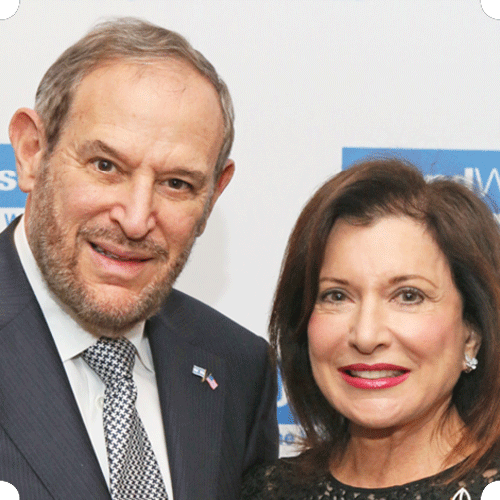 Sandy and Larry Post
"We support StandWithUs because it effectively inspires young adults around the world to stand up for Israel. Our gift to the StandWithUs LINK Middle School Program will ensure future support for Israel."