The Story of StandWithUs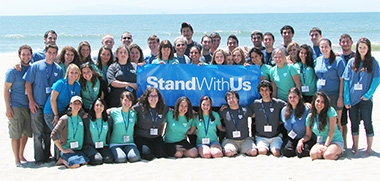 StandWithUs was founded in May 2001, when Roz and Jerry Rothstein and Esther Renzer brought together Los Angeles Jewish and lay leaders who shared their grave concern about anti-Israel bias in the media during the 2nd Intifada. Israeli citizens were being physically attacked, and the media was misrepresenting Israel. Just two weeks earlier, Koby Mandell and Yosef Ishran had been murdered by terrorists. Their bodies were so mutilated they could only be identified by their dental records. The tragedy was bad enough, but the media coverage was unfathomable.
The group that gathered on May 21 realized that there was no organized voice in America to stand up for Israel, no experts explaining Israel's actions as it defended itself against terrorism. No U.S. organizations were sponsoring rallies in support of Israel. College students were confronting increasing anti-Israel activities on campus and did not have the tools to respond effectively or to educate their peers. We also realized that no existing Jewish organizations had the resources or a specific mission to explain Israel's actions to the public, help college students, deal with ill-informed journalists, or sponsor public demonstrations.
StandWithUs' mission was and remains to fill this vacuum. We grew quickly because of the need to combat the growing and increasingly sophisticated global movement against Israel. StandWithUs began as a volunteer organization, but within a year became a professionally led 501(c)3. Today, StandWithUs has become a global organization with 18 offices in five countries, a team of over 100 employees and thousands of volunteers passionate about developing creative ways to tell Israel's story, and a budget that went from $250,000 in our second year to over $10 million in 2016. StandWithUs has become a leading Israel activist and education organization, with CEO Roz Rothstein listed four different times as one of world's 50 most influential Jews in both The Jerusalem Post and The Jewish Daily Forward. StandWithUs has been mentioned in over 25,000 articles and collaborated with 750 different pro-Israel organizations that recognize the value StandWithUs adds to the work pro-Israel communities do around the world.
The StandWithUs strategy is to empower young adults and young teens, the future generation of voters and opinion leaders. By working in colleges, high schools and most recently middle schools, StandWithUs hopes to create a network of young people educating and inspiring their peers about Israel.
StandWithUs ensures that those who want to educate their communities about Israel have the tools they need readily available. StandWithUs has become the main producer of Israel-related print materials, like the signature booklet, "Israel 101," which has been translated into multiple languages. The variety of materials help people who care about Israel answer tough questions, and the StandWithUs social media and websites cover a variety of Israel-related topics, and educational films which have millions of views. StandWithUs has also become a leader in social media, helping pro-Israel content go viral on a daily basis. Our Facebook page now has over 1 million followers, and our posts and tweets reach millions daily. On peak weeks, the facebook pages have reached over 100,000 interactions.
A key goal of our organization has been to mobilize, educate and train more Israel advocates, which we have done through our fellowship programs for college and high school students. Our carefully selected Emerson Fellows now work on over 80 campuses in the U.S. and Canada and our flagship Teen Internship program now includes 85 teenagers who educate their high school peers about Israel and are ready to be leaders on their future college campuses. During the 2015-2016 school year StandWithUs helped organize 800 different programs that reached over 90,000 college students, and 500 programs that reached over 50,000 high school students across North America.
Our office in Israel has graduated over 1,000 Israeli Fellows - students who have completed their IDF service and are trained by StandWithUs to tell Israel's story from an Israeli perspective. They bring the world to Israel through annual programs and conferences, and many of them travel abroad to America, the UK, Canada, and South Africa to share their personal experiences on campuses and in communities. They also create their own projects, like the global Instagrammers and Bloggers contest which brings popular internet personalities on trips to Israel where they share their impressions with millions of followers around the world.
Nimble and ever ready to seize new opportunities, StandWithUs has launched a new education effort in China, where we are using social media and videos to reach significant numbers of Chinese people to reinforce the fact that China has become an important trading partner for Israel.
In the last two years StandWithUs has also opened a legal department which has over 140 pro bono attorneys across the US that have helped to resolve over 200 different incidents. StandWithUs has also developed a new curriculum for Middle School children called LINK, which is a dynamic, inspiring digital program that teachers are falling in love with. Link will be rolled out in the coming months. Finally, StandWithUs has recently partnered with an organization called Alums For Campus Fairness, which is organizing alumni who are concerned about their alma matter campus climates and want to become involved.
Our founders believe that our mission is an urgent race to educate as many people of all backgrounds as possible. Through international programs that reach from South Africa to Australia, to advocacy training, speakers, social media, and visual content, StandWithUs ensures that Israel's story is told accurately, and that Israel's many challenges and accomplishments are better understood by people all over the world.
Sound Fiscal Management And Accountability: StandWithUs has the highest possible rating on Charity Navigator, and GuideStar, two charity watchdog groups.