Social Media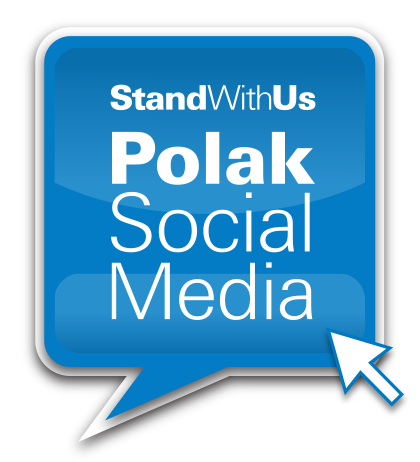 Recognizing that social media is the newest vehicle for the grassroots flow of information to activists and supporters worldwide, StandWithUs has developed an exciting presence in the new media arena. With a generous contribution from Janet and David Polak, our social media department continues to grow and reach millions of users online.
Facebook: StandWithUs has millions of interactions every month on our Facebook pages, and the numbers are continuing to mount! With over 250,000 fans on our StandWithUs Facebook pages, StandWithUs has the largest number of fans of any Facebook page of any Jewish Israel advocacy organization. Join us! "LIKE" us on Facebook at www.facebook.com/StandWithUs and also on www.facebook.com/iheartisrael.org
YouTube: StandWithUs creates videos on a variety of topics and has millions of views collectively. Topics range from "Say No to BDS" to films that teach Israel's history and strategic threats. In cooperation with the Israeli Ministry of Foreign Affairs, we produced YouTube videos that feature former Israeli Deputy Foreign Minister Danny Ayalon teaching about settlements, Jewish refugees from Arab countries, Jerusalem, and the peace process. View the newest video and subscribe to our YouTube channel at www.youtube.com/standwithus.
Twitter: Our 18,000+ Twitter followers continue to expand in number on our various accounts, educating and connecting users around the world as one of the fastest growing Jewish advocacy efforts on twitter. Follow us on Twitter at www.twitter.com/StandWithUs.